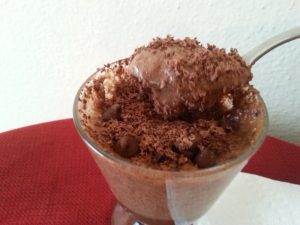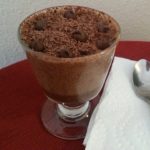 Ingredients
3/4

cup

dark chocolate chips

1 1/2

tbsp

unsalted butter at room temperature

1 1/2

tbsp

granulated sugar

1

tbsp

heavy cream

4

eggs

pinch of salt
Instructions
This is a classic recipe of chocolate mousse, it's easy and ready in 10 minutes, but it's preferable to consume it after being chilled for 24 hours.
Put chocolate, heavy cream and butter in a heatproof bowl.

Place the bowl over a pan of barely simmering water(bain marie) and allow the chocolate to melt, stirring occasionally. Once the chocolate is melted, set it aside.

Separate the egg whites from the yolks

Add 1 egg yolk at the time to the chocolate mixture and whisk fast to avoid scrambling the eggs. Once the egg yolks are well incorporated to the chocolate mixture, set aside.

Beat the egg whites with a pinch of salt for a minute or two then add in gradually the sugar. Keep whisking until stiff peaks form.

Take about 2 tablespoons of the egg whites and mix well with the chocolate egg yolks mixture, to loosen it a little bit.

Gently fold in the remaining egg whites to the chocolate egg yolk mixture.

Pour in serving cups then cover the cups with plastic wrap and refrigerate overnight.

Decorate the chocolate mousse with your desired decoration(optional).

Serve.