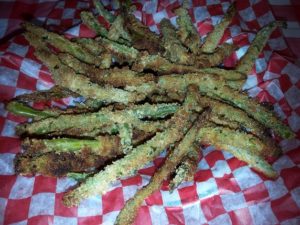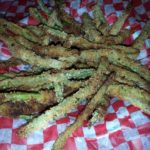 Ingredients
1 lb green beans

2 eggs

½ cup all purpose flour

½ cup Italian style bread crumbs

Salt, pepper

3 to 4 tbsp olive oil
Instructions
These are the healthiest, crunchiest and crispiest green beans ever. If you want to add heat to these beans, you can add hot chili powder to the bread crumbs and mix well. Here is the recipe.
Preheat oven to 425°F.

Trim the ends of the green beans.

Wash the beans and dry them on paper towel.

Season with salt and pepper.

Beat the eggs with a pinch of salt.

Roll the beans in flour. Shake the excess flour.

Dip them in eggs.

Finally roll them in bread crumbs and shake out the excess.

Place the beans on a baking sheet covered with parchment paper.

Drizzle with olive oil, that make them roast better and taste better.

Roast for 30 minutes. After the first 15 minutes, flip the beans over to roast the other side and get that beautiful golden brown color.

Serve the roasted beans immediately as they are or with a dipping sauce.