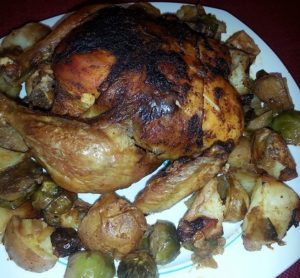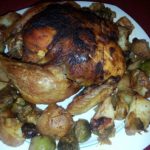 Cook Time
1
hour
30
minutes
Total Time
1
hour
50
minutes
Ingredients
1 small Chicken

12 oz tender baby brussels

6 medium red potatoes cut small

1 chopped medium onion

1 stick unsalted butter at room temperature

¼ tsp ginger powder

¼ tsp garlic powder

1 full tsp paprika

salt, pepper to taste

1 medium lemon

4 to 5 cloves garlic in their skin

Olive oil

Water as needed

Kitchen Twine
Instructions
First prepare the chicken by rubbing it with half lemon inside and out. Make sure to leave the chicken at room temperature 30 minutes before preparing it.

In a bowl mix ginger, paprika, garlic powder, salt, pepper and the softened butter.

Make a paste and put most of it under chicken skin around breasts and legs, and rub the rest all over the chicken. That will help get it moist and tender. Sprinkle the cavity of the chicken with salt and pepper.

Put the other half of a lemon inside the chicken.

Tie together chicken legs with kitchen twine so that chicken will cook evenly. Cover and set aside

Trim off the end of brussels sprouts and slice them in the middle lengthwise.

Season with salt and pepper.

Drizzle with 2 to 3 tablespoons olive oil and set aside.

Sauté the onion in 2 tablespoons of olive oil, over medium high heat.

Stir frequently. If the onion starts to stick to the pan, stir in some water (about ¼ cup).

Season with salt and pepper to taste and cook for about 3 minutes or until the onion is golden brown.

Toss in brussels sprouts. Mix for about 3 to 4 minutes then take out of the heat and set aside.

Drizzle olive oil in a roasting dish.

Lay brussels sprouts and onion, along with potatoes, single layered over the dish. Toss in garlic cloves.

Put chicken on top of the vegetables in the middle. Make sure to tuck the wings under the chicken to avoid burning while roasting.

Bake in a 425 °F preheated oven for about 1 hour and 30 minutes or until the juices run clear when piercing. You may need to add in about ¼ cup or less of warm water if you feel that the vegetables may burn.

Take out of oven and cover with aluminum foil.

Let stand 15 minutes minimum before carving so the juices settle.

Serve.