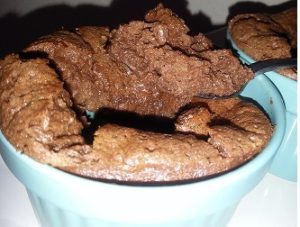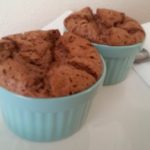 Ingredients
1

egg yolk

3

egg whites

1

tsp

cornstarch

7

tbsp

whole milk

2

tbsp

granulated sugar plus extra to dust the insides of the ramekins

7

tbsp

chocolate chips

1

tbsp

heavy cream

3

tbsp

unsalted Butter at room temperature

Pinch of salt
Instructions
My favorite chocolate soufflé recipe or soufflé au chocolat in French, is an inspiration of Hervé cuisine; a French Youtube channel, please see original recipe here https://www.youtube.com/watch?v=H4VHyxIg9yE
The chocolate soufllé came out nice and fluffy, here is the recipe:
First melt the chocolate in bain marie by putting the chocolate with the tablespoon of heavy cream in a bowl and place the bowl over hot water (not boiled water). Mix well until obtain a nice shiny melted chocolate. Set aside.

In a bowl mix the egg yolk with cornstarch. Set aside.

Put the milk in a saucepan over medium high heat and bring to boil.

Pour the milk over the egg yolk mixture, whisk constantly to avoid scrambling the egg yolk.

Pour back the milk egg yolk mixture in the saucepan over medium low heat, whisk constantly until thickened. The texture should look like a pastry cream.

Pour over the chocolate, and whisk until combined. Let cool.

In another bowl, beat the egg whites with a pinch of salt about 2 to 3 minutes then slowly add in the sugar.

Keep beating until the egg whites are stiff.

Loosen the chocolate with 2 tablespoons of the egg whites.

Gently fold in the remaining egg whites until you obtain a nice shiny mixture that looks like chocolate mousse.

Butter well 3 and ½ inch ramekins, bottoms and sides. Dust each ramekin with granulated sugar and move the ramekin or rotate it to make sure that the sugar sticks to the butter in all sides. Pour out the excess sugar.

Spoon the soufflé Mixture in the ramekins and bake in a preheated 350°F oven for 15 minutes.

Serve the chocolate soufflé immediately as they will slowly deflate once removed from the oven.