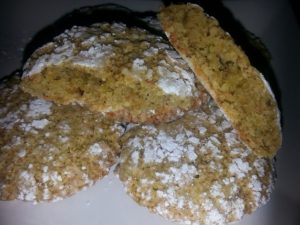 Ingredients
1 cup ground raw unsalted pistachios(shelled )

2 cups finely ground white almond

½ cup granulated sugar

1 lemon juice

1 lemon zest

1 tsp vanilla sugar

1 tsp baking powder

to 3 egg whites

½ cup sifted powdered sugar for rolling
Instructions
These cookies are dairy and gluten free. They are soft, a little chewy and obviously yummy!
In a bowl, put all the ingredients except the powdered sugar and egg whites.

Mix all the ingredients with hands and add in the beaten egg whites little by little. Mix well until the mixture get together. The dough mixture should not be too wet, so you may not need to use all the egg whites.

Let the pistachio mixture rest for 10 minutes.

Make small balls with the pistachio mixture.

Roll the dough balls in the powdered sugar.

Place dough balls in a baking sheet covered with parchment paper two inches apart from each other.

Flatten the dough balls slightly by gently pressing with your hands.

Bake in a 350°F preheated oven for 15 minutes or until they turn lightly brown. The cookies will have pretty little cracks as they bake.

Let cool then serve.