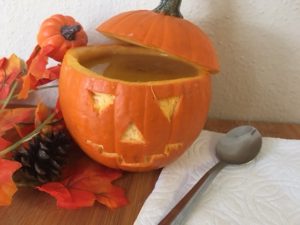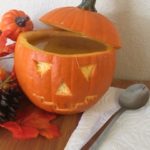 Total Time
1
hour
5
minutes
Ingredients
1 pumpkin of about 2 to 3 lbs

1 medium onion

4 green onions

3 cloves garlic

3 tbsp olive oil

¼ pound or less of cheddar cheese, cut small

1 tbsp finely chopped cilantro

Salt, pepper to taste

Hot sauce(optional)
Instructions
This soup can be ready in 15 minutes if you use a pure pumpkin puree. Since I have made my soup from scratch, it takes longer. The longest time is roasting the pumpkin. You can roast and puree the pumpkin ahead of time. This Pumpkin soup is creamy and delicious, it's a taste of fall in a bowl!
First cut the pumpkin in half, remove the seeds and pulp.




.

Put halved pumpkin cut side down, on a baking sheet, covered with parchment paper

Roast pumpkin in a 400°F preheated oven, for 40 minutes.

5 minutes before the roasting pumpkin is done, prepare onions and garlic by cutting them and sauté in olive oil, over medium high heat.

Once pumpkin is roasted, peel off the skin and cut into chunks.

Place pumpkin chunks in the saucepan with onions garlic mixture.

Add cilantro and let cook for 5 minutes at medium heat, then cover the vegetables with water.

Bring to a boil and let cook for about 15 minutes at medium low heat.

Puree the vegetables, using an immersion blender.

Toss in the cheese and stir constantly until the cheese melts. Stir in hot sauce if you like (optional) and adjust seasonings as needed.

Turn off the heat.

Serve in a carved pumpkin bowl if you desire. It can be served as is or sprinkled with black pepper, nutmeg or add crème fraiche.