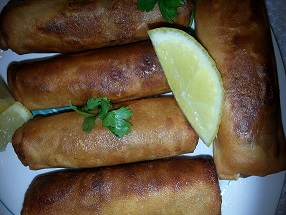 Preparation time: 10 mn
Cook time: 30 mn
Total time: 40 mn
Ingredients
25 spring rolls sheets
Vegetable oil for frying
For the filling
1lb ground beef
1 medium chopped onion
2 cloves garlic
1 ts salt
¼ ts black pepper
1 cup chopped cilantro.
¼ cup rice
½ lb shredded cheddar cheese
1 Ts paprika
1 Ts tomato paste
3Ts olive oil
Preparation
Make the filling
This recipe will make 25 Bourek .
1- First put the rice in a cup of water to be soaked.
2- In a pan , heat oil on medium heat and sauté the onion until golden brown.
3- Add the ground beef, the chopped cilantro and the remainning ingredients except the vegetable oil.
4- Stir constantly and add about ½ cup water.
5- Rinse the rice then add it to the beef mixture.
6- Reduce the heat and let cook until the water is absorbed, for about five minutes or so.
7- Adjust the seasoning.
8- Turn off the heat. Let it cool.
9- Add to the beef mixture the shredded cheese, and mix well.
Make the rolls
1- Separate each sheet of spring rolls. Lay one sheet of spring rolls on a working board or a a plate.
2- Put about 2 to 3 tablspoons of the beef mixture in the lower center of the sheet.
3- Fold the two sides of the sheet to the center as shown in the picture below.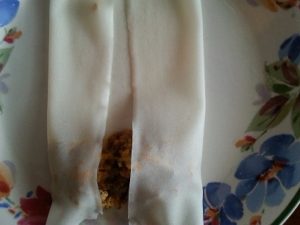 4– Start to roll the sheet.
5- Repeat the operation to all the spring rolls sheets.
6- In a frying pan, heat the oil on medium heat.
7- Fry the spring rolls or the bourek, fold side down.
8- Fry both sides until golden.
9- Drain the Bourek on paper towel.
10- Serve warm with wedges of lemon if desired.
Recipe by: LDS's Mom