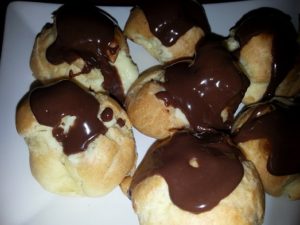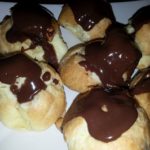 Total Time
1
hour
15
minutes
Ingredients
Profiteroles are French pastries made of Choux pastry, vanilla pastry cream and chocolate ganache.
We have used the same recipe as French eclairs. Please check the recipe here
https://www.myexcellentdegustations.com/french-eclairs/
The only difference between the French eclairs and Profiteroles is the shape. Please follow the directions of the Eclairs recipe until step 10. Here are the remaining directions to obtain the Profiteroles.
10- Place the dough in a pastry bag fitted with a large plain tip.
11- Pipe onto a baking sheet covered with parchment paper.
12- Make mounds of dough by piping the cream in the same spot, spacing them a couple of inches apart.
13- Bake at 400°F for 15mn then reduce the heat to 350°F . Continue to bake for 20mn or until the shells are golden. You may need to move the baking sheet from the middle rack to the top rack in the last 10mn to obtain golden shells.
14- pock the pastry shells with a toothpick in two or three places to allow vapor to escape.
15- Let cool completely.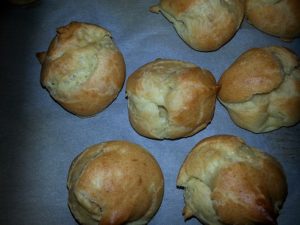 Prepare the chocolate ganache
In a heatproof bowl, put the chocolate and the heavy cream in a bain marie or water bath. Mix well the ingredients until you obtain a nice shiny ganache. Set aside.
Assemble the Profiteroles
1- First Put the pastry cream in a pastry bag fitted with a small plain tip.
2- Pipe in each choux pastry shell the pastry cream. You don't need to make any opening in the shells, there is always a place where you can pipe in the cream.
3- Dip the top of the shells in the chocolate ganache.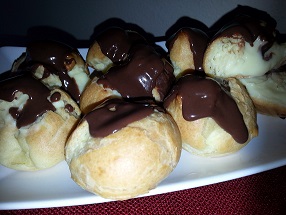 4- Chill uncovered to set the ganache.
5- Serve.
Recipe by: LDS's Mom