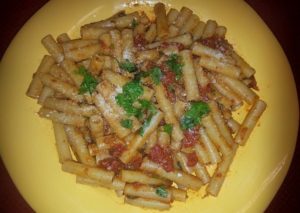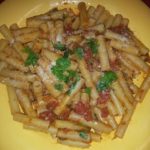 Ingredients
1 lb ziti pasta

1 tbsp unsalted butter at room temperature

¼ cup grated parmesan cheese
For Arrabbiata sauce
4 tomatoes

4 cloves garlic

½ cup chopped cilantro

1 tsp red pepper flakes

2 tbsp olive oil

1 tsp paprika

Salt, pepper to taste
Instructions
Cook pasta according to package directions.

Put the tomatoes in a saucepan, cover them with water and place the saucepan over medium heat.

Bring water to boil, and let cook for 2 minutes; that makes it easy to peel off the tomatoes.

Peel off the tomatoes and cut them small. Set aside.

Prepare the arrabbiata sauce, Put olive oil in a saucepan, over medium high heat and sauté the garlic and red pepper flakes, for about 2 minutes or may be less.

Once the garlic starts to golden , add in the tomatoes.

Season with salt and pepper. Add paprika, stirring frequently.

Let simmer for about 10 minutes then add cilantro. Turn off the heat and set aside.

Once the pasta is cooked, drain it and stir in the butter until it melts.

Pour pasta over arrabbiata sauce, mix them well.

Serve pasta with grated parmesan on top.

Enjoy.