Greek salad is made of tomatoes, cucumbers, onions, green bell pepper slices, basil, lemon juice,  Kalamata olives and feta cheese. This salad is  seasoned with salt, pepper and oregano. It is dressed with extra virgin olive oil. This flavorful salad is best after being  refrigerated for at least 20 minutes to allow flavors to combine.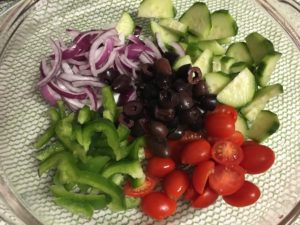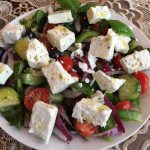 Ingredients
3oz diced Feta cheese

½ of the English cucumber

½ cup cherry tomatoes

1/3 of 1 Green bell pepper

1/3 of a medium red onion

1/3 cup pitted Kalamata olives

¼ cup extra virgin olive oil

1 tbsp fresh lemon juice

1/8 tsp salt

¼ tsp black pepper

1/8 tsp oregano plus extra for serving

1 tbsp chopped basil
Instructions
Take off some strips of the English cucumber skin. You can completely peel off the cucumber if you prefer.

Cut the half of the English cucumber lengthwise.

Slice the cucumber into about ¼ inch slices. Place in a large bowl.

Cut the cherry tomatoes in half and add them to the cucumber.

Slice the third of the onion into quarters then thinly slice the quarters and add them to the bowl.

Slice the third of the green bell pepper into quarters and slice each quarter thinly. Add it to the bowl of vegetables.

Slice the kalamata olives and add them to the bowl.

Season the vegetables with salt and pepper.

Add oregano, basil and lemon juice then mix everything with a spoon.

Add about 2 tablespoons of olive oil and mix again.

Place the Salad in a serving dish.

Add Feta cheese on top of the vegetables.

Sprinkle with oregano if you like and the remaining olive oil.

Cover the dish with plastic wrap and refrigerate for about 20 minutes to allow flavors to combine.

Enjoy.