Preparation time: 10mn
Ingredients
½ cup pitted California style ripe olives
2Ts cream cheese softened
2 tsp  chopped dill
Preparation
1- In a large plate mix the cream cheese with the chopped dill until combined, using a folk to help soften the cream cheese.
2-Put the cream mixture in a bag fitted with a small plain tip.
3- Pipe the cream mixture inside the olives.
4- Put in each stuffed olive a decorative toothpick.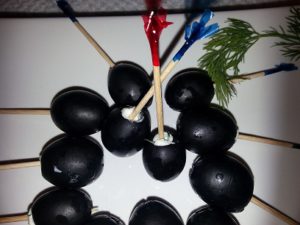 5- Serve as an appetizer.
Recipe by: LDS's Mom