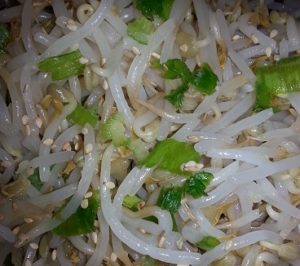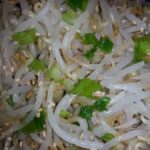 Ingredients
1 lb Mung bean sprouts

¼ tsp salt plus extra for boiling water

1 tsp sesame seeds

2 cloves minced garlic

2 green onions finely chopped plus extra for garnishing

1 tbsp sesame oil.

6 cups water
Instructions
Put water in a large saucepan and add a pinch of salt. Place the saucepan over medium high heat and bring water to a boil.

Rinse and drain mung bean sprouts and toss them in boiled water. Let cook for 2 to 3 minutes(sprouts should be crunchy).

Drain and immediately wash them with cold water to stop the cooking process. Let them for 1 to 2 minutes in cold water(in a large bowl).

Take them out by shaking then to get rid of bean skins. Drain again and put them in a large bowl.

Add salt, sesame oil, onion and garlic to the mung bean sprouts and mix well.

Serve garnished with chopped green onion.