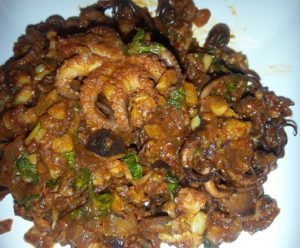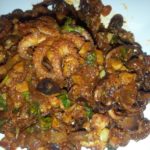 Ingredients
1 lb baby octopus

1 head finely chopped garlic

1 small chopped onion

1 medium chopped tomato

2 tbsp extra virgin olive oil

2 tbsp chopped cilantro plus extra for garnishing(optional)

½ small lemon juice

1 tsp fresh grated ginger

1 tsp paprika

1 tsp apple cider vinegar

1 tsp soy sauce

2 tsp tabasco sauce

¼ tsp pepper

Salt to taste

2 bay leaves

Water as needed
Instructions
It is preferable to ask the fishmonger to clean the octopus. In case you have to clean the octopus yourself, you need to return the heads like a mitten and take out the guts. Rinse then return the heads back. Take out the eyes and beak in the center of the tentacles. Rinse well to get rid of the foamy liquid that was exuded by the octopus.
Put baby octopus in a saucepan half full with salted cold water, add the bay leaves.

Put the saucepan over high heat and bring to a boil.

Reduce the heat to medium low and let simmer from 20 to 35 minutes. Check from time to time the tenderness of the octopus by using a knife.

Drain the baby octopus and cut them into small pieces, tentacles and heads. You may leave one octopus or 2 for garnishing.

Make a marinade with salt, pepper, paprika, soy sauce, tabasco, vinegar, and lemon. Add the cut octopus and mix well in the marinade then set aside.

In a saucepan, heat olive oil over medium high heat.

Sauté the onion and garlic in the heated oil for 2 to 3 minutes, stirring occasionally.

Add in the chopped tomato, ginger and Stir for few minutes until the vegetables are soft. You may need to add 1/3 cup water to avoid the stickiness of the vegetables to the pan.

Add in the cut octopus and let simmer for 5 minutes, stirring from now and then.

Add in the chopped cilantro, mix well and turn off the heat.

Serve with rice or anything you like.