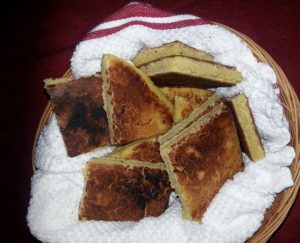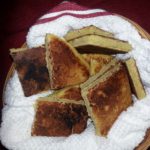 Ingredients
2

lb

fine or medium semolina

1/2

cup

extra virgin olive oil or vegetable oil

1

tsp

salt

1

tsp

active dry yeast

1

tbsp

granulated sugar

Water to assemble the dough

Flour
Instructions
This recipe is typical of the region of Big Kabylie(Grande kabylie) in Algeria.
First dissolve the yeast and sugar in ½ cup of warm water.

In a big dish put semolina, add olive oil, mix the two ingredients well between fingers until the oil is well incorporated and you get a sand like texture.

Add salt and the yeast mixture.

Mix everything well with hands and sprinkle water little by little to control the amount of water needed and knead the dough for 2 to 3 minutes until you obtain a homogenous dough.

Roll the dough into a ball and let rest 5 minutes.

In a big cutting board, spread flour and put the dough ball on it.

Use a rolling pin to flatten the dough and make a disc of about 1 inch thick or thinner if you like.

Work on the edges to give them a nice smooth shape, by pressing the edges between your hands, one hand on the dough disc horizontal and the other hand vertical at the edge.

Cook the dough disc in a skillet or tagine over medium heat, You may need to reduce the heat to low if you feel that the bread starts to burn.

You will need to gently press on the dough disc while it is on a skillet cooking. If you can't stand the heat, use a kitchen towel.

Return the dough disc to cook the other side.

Once the bread or Aghroum is cooked, cut into pieces.

Serve this bread or Aghroum with olive oil, buttermilk, Pepper tomato salad or Ifelfel or whatever you like.