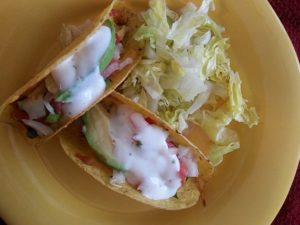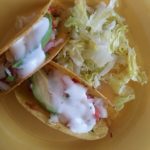 Ingredients
9

taco shells

2

cups

iceberg lettuce cut smaal

9

slices american cheese

Extra vergin olive oil

Ranch dressing

2

medium avocados sliced
For the taco filling
1

medium onion

1

bell pepper of each, red, green and yellow

3

cloves garlic

4

tbsp

chopped cilantro

3

tbsp

Extra virgin olive oil

1

lb

chicken minced

Homemade taco seasoning

Salt as needed

1/2

cup

water
For the homemade taco seasoning
1

tsp

chili powder

1/4

tsp

garlic powder

1/4

tsp

onion powder

1/4

tsp

crushed red pepper flakes

1/4

tsp

dried oregano

1/4

tsp

ground cumin

1/2

tsp

paprika

1

tsp

sea salt
For the Salsa
2

medium tomatoes cut small

1

chopped medium onion

3

chopped green onions

2

cloves garlic minced

1

tbsp

extra virgin olive oil

2

tbsp

chopped cilantro

1

lime juice

1

chopped jalapeno pepper

2

tbsp

tabasco sauce

1/2

tsp

sea salt
Instructions
First prepare the salsa by mixing all the ingredients in a bowl. Set aside.

In another bowl mix all the ingredients of the taco seasoning and set aside.

Prepare the Taco filling by sautéing the onions, garlic and bell peppers in the hot olive oil in a pan over high heat. Stir for 2 to 3 minutes.

Add in the taco seasoning and the chicken minced. Stir occasionally for about 3 minutes then add in the water and reduce the heat to medium low.

Let simmer for few minutes until the vegetables are tender and the chicken is cooked.

Add in the cilantro, and mix it well then turn off the heat and set aside.

Assemble the tacos by putting 1 tablespoon of the chicken filling in each taco shell, then a slice of the American cheese in each taco shell as well(the cheese is a personal choice).

Place the Filled tacos in a dish and put in 400 °F preheated oven for 5 minutes until the cheese is melted.

Take out of the oven and put in each stuffed shell a tablespoon of salsa, a piece of avocado and top with ranch dressing.

Serve with shredded iceberg lettuce drizzled with olive oil.