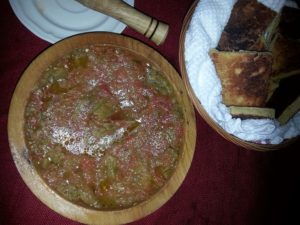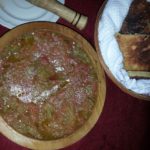 Ingredients
9

medium green or anaheim peppers

3

chilli peppers or any other spicy peppers(optional)

6 Medium tomatoes or 4 big ones

Extra virgin olive oil

Salt
Instructions
This is a very simple recipe of a kabyle tomato pepper salad or Ifelfel. The number of peppers and tomatoes depends of your personal choice. If you like too much tomatoes in your salad, add more.
Place peppers and tomatoes in a baking sheet, drizzle with 2 to 3 tablespoons of olive oil and some salt.

Bake in a preheated 400 °F oven for about 20 minutes. Flip the peppers and tomatoes over after the first 15 minutes.

Take out the oven and put in plastic bag(it makes it easy to peel off the skin). Set aside for 5 minutes.

Peel off the skin of both tomatoes and peppers.

Remove the seeds and the internal rib of the peppers.

Use a wooden mortar to crush the peppers first then the tomatoes. Mix well and add in salt to taste and drizzle with 2 to 3 tablespoons olive oil.

Serve warm or cold with Algerian Kabyle Bread- Aghroum Akouran or any other type of bread. It tastes much better when it served in a wooden dish or earthenware.