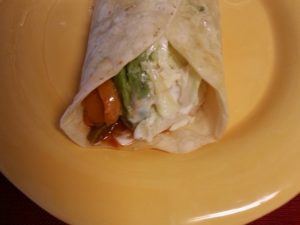 Preparation time: 10mn
Cook time: 10mn
Total time: 20mn
Ingredients
8 count Flour tortilla
1 medium avocado sliced
Assemble
1 medium onion
2 green onions
2 cloves chopped garlic
1 Red bell pepper
1 green bell pepper
1 yellow bell pepper
3 Ts olive oil.
1 ts salt
¼ ts black pepper
½ ts chilli powdered
1 ts paprika
2 medium tomatoes
2 Ts chopped cilantro.
½ lb Mozzarella cheese
Preparation
Sauté the vegetables
1- Put olive oil in a pan on medium high heat.
2- Add in the onions and the garlic . Sauté for about 2mn or until tender.
3- Add in the bell peppers cut into slices. Cook for a minute or two or until tender.
4- Toss in the chopped tomato and stir constantly. You may need to add a quarter cup water to avoid burning of the vegetables.
5- Season with salt and pepper. Add in the chilli powder, paprika and cilantro. Mix well for a minute or so then pour the vegetable mixture in a bowl and set aside.
Assemble the Fajita
1- On medium heat put 1 ts olive oil in a large skillet and roast the tortilla on both sides. Set aside.
2- Lay the roasted tortilla in a large plate.
3- Put about 2 Ts to 3Ts of the vegetable mixture in the middle of the roasted tortilla.
4- Add in about half the avocado cut into long pieces.
5- Sprinkle the one table spoon mozzarella cheese.
6- Squeeze about 1 Ts ranch dressing. You can put sour cream instead of ranch dressing.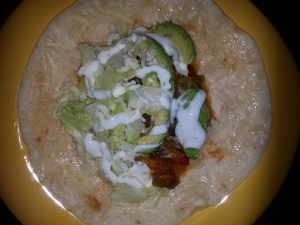 7- Fold two sides (toward the center) and one end of the tortilla over filling.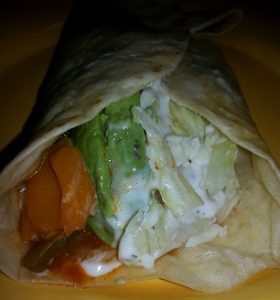 8- Serve.
Recipe by: LDS's Mom