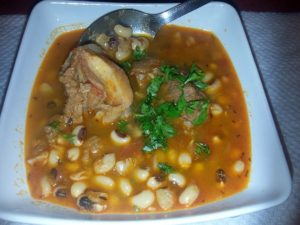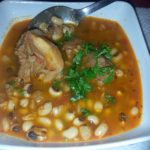 Cook Time
1
hour
30
minutes
Total Time
1
hour
50
minutes
Ingredients
1 lb black-eyed peas soaked overnight in slightly salted water

1 lb beef with bones, cut small

1 chopped medium onion

1 chopped medium tomato

4 cloves garlic chopped

3 tbsp olive oil

1 tsp salt

¼ tsp black pepper

¼ tsp ginger powder

¼ tsp thyme

¼ tsp cumin

1 tsp paprika

½ tbsp tomato paste

1 bay leaf

2 tbsp chopped fresh cilantro for garnishing

Water
Instructions
Rinse and drain the soaked black-eyed peas.

Put the black-eyed peas in a saucepan and cover them with water.

Place the saucepan over medium high heat, bring to boil, then reduce the heat to medium low and let cook for 10 minutes.

Drain the black-eyed peas and rinse with warm water to get rid of the white foam formed. Drain again and set aside.

Sauté onion and garlic in olive oil over medium high heat until onion is translucent, for about 2 to 3 minutes.

Add in the beef and chopped tomato. Season with salt and pepper.

Add bay leaf, ginger powder, cumin, thyme, paprika and tomato paste. Stir frequently for about 5 minutes then toss in the black-eyed peas. If you want to add heat to the sauce, add chili powder or any type of hot spices you prefer.

Pour in about 5 to 6 cups water to completely cover the peas.

Bring to boil then reduce the heat to medium low and cook for about 1 hour or until peas are tender. Adjust the seasoning of the sauce if necessary. The sauce should be reduced at this stage.

Sprinkle with fresh cilantro and serve. It can be served with rice or simply with your type of bread.