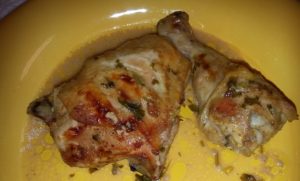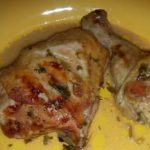 Ingredients
8 pieces chicken

3 to 4 tbsp extra virgin olive oil
For the mustard sauce
½ cup dijon mustard

2 tbsp honey

1 tsp apple cider vinegar

3 tbsp chopped cilantro(optional)

1 tsp salt

1/2 tsp black pepper

¼ tsp onion powder

¼ tsp garlic powder

¼ tsp ginger powder
Instructions
The total time given in this recipe did not include the marination time. It would be better to marinate the chicken overnight.
Preheat oven to 450°F.

Prepare the mustard sauce by mixing all the ingredients.

Prepare the chicken for marination. Make 2 to 3 slashes with a knife in the chicken, that will make the marinade get deeper into the chicken.

Marinate the chicken in the mustard sauce and refrigerate for 3 hours minimum, preferably if prepared overnight.

Place chicken in a non stick baking dish, drizzle with olive oil.

Bake for about 45 minutes.

Serve with the mustard sauce. You can use the sauce as it is or put it in saucepan and simmer it until it is reduced. This chicken can be served with rice, mashed potatoes or other.