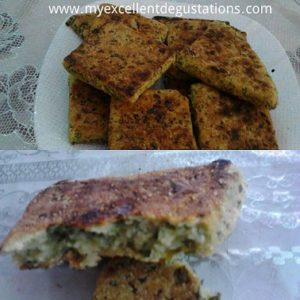 Preparation time: 20 mn
Cook time: 20 mn
Total time: 40 mn
Ingredients
1 lb medium semolina
1 cup green onions leaves
1 cup mixed coriander and cilantro leaves
1 cup mint leaves
1 ts salt
6 Ts olive oil.
Flour
Water
Preparation
This recipe is one of the type of the Algerian Kabyle bread. Recipes differ from one region to another. This is a bread made of green leaves. It depends of what type of leaves you have. Some kabyle use green garlic leaves mixted to mint leaves and green oignons leaves.
Since the amount of mint is the same as the other type of leaves in this recipe, then this is a "Herbs bread" or "Aghrum Al Hchich". If the mint is a dominant ingredients, then Algerians call it "Mint bread", or Aghrum N naa- naa.
1- First chop finely the green leaves using a blender.
2- In a large bowl, mix the semolina with olive oil and salt. Mix until the oil is well incorporated.
3- Add the chopped leaves.
4- Mix well.


5- sprinkle water over the mixter slowly until all the ingredients are combined. Kneed the dough for about two minute in order to get a nice soft dough.
The amount of water really depends of your semolina. The dough should not be too hard, or have too much water. It has to be a nice and soft dough.
6- sprinkle flour in your working board, put the dough on it. Flatten the dough with a rolling pin, until you obtain a nice disc of about ½ inch. Use the flour, while working with the dough so that it will not stick to your hands.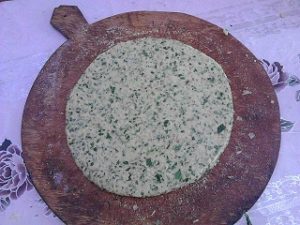 7- Using a knife, cut the dough disc into pieces. It makes it easy to cook while in pieces.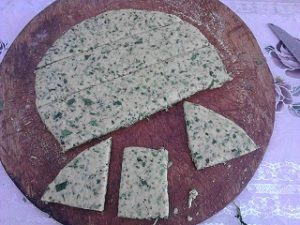 8- Cook the bread in a skillet over medium heat. Algerians use a Tagine, it's either made of metal or earthenware.
9- Make sure you flip the dough pieces in a skillet to get them cooked in both sides until you obtain a nice color.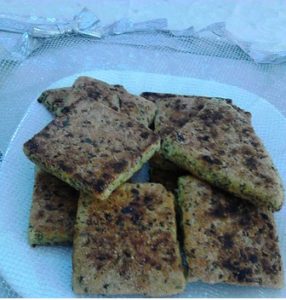 10- Serve this bread or Aghrum Al Hchich with olive oil, buttermilk, or whatever you like.
Recipe by: LDS's Mom