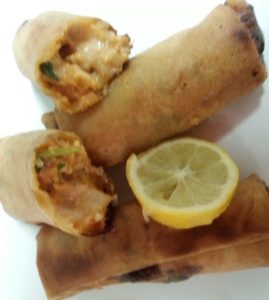 Ingredients
25 spring rolls sheets
Oil for frying
For the filling
2 cups grounded chicken
1 medium potato boiled in salted water and mushed
1 cup shredded mozzarella cheese
1 small onion
2 cloves garlic
½ cup pitted black olives cut small
2 Tbsp chopped cilantro
1 medium chopped tomato
1/8 tsp cumin
1 tsp paprika
½ tsp crushed red pepper
salt, pepper
Preparation
Make the filling
This recipe will make 25 bourek.
1-In a saucepan, heat oil over medium heat and sauté the onion and garlic until golden.
2- Season with salt and pepper to taste and add paprika.
3- Keep stirring for a minute or two, then add in the chopped tomato and chicken.
4-Let cook for about 5 minutes or until the chicken is completely cooked.
5- Toss in the potato and cilantro. Stir for about a minute.
6- Turn off the heat. Let it cool.
7- Add to the chicken filling, the shredded mozzarella cheese and the olives. Mix well and set aside.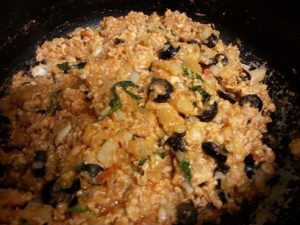 Make the rolls or Bourek
1- Separate each sheet of spring rolls. Lay one sheet of spring rolls on a working board or a plate.
2- Put about 2 to 3 tablespoons of the chicken mixture or filling in the lower center of the sheet.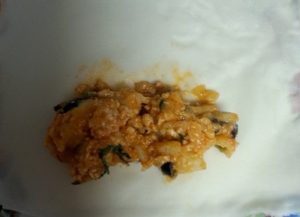 3- Fold the two sides of the sheet to the center, then roll.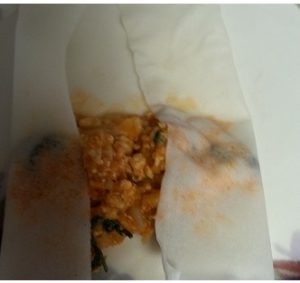 4- Repeat the operation to all the spring rolls sheets.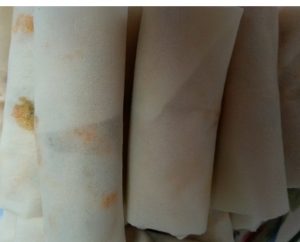 5- In a frying pan, heat oil on medium high heat.
6- Fry the spring rolls or the bourek, fold side down.
7- Fry both sides until golden.
8- Drain the bourek on paper towel.
9- Serve warm with lemon if desired.
Recipe by: LDS's Mom