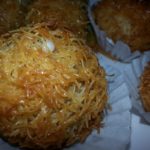 Total Time
1
hour
10
minutes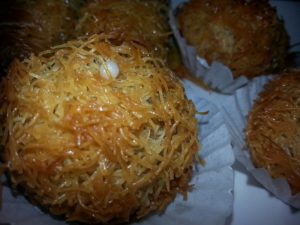 Ingredients
8 oz kataifi Shredded dough
1 ½ stick unsalted butter
sugar syrup
For the filling
1½ cups grounded peanut
½ cup granulated sugar
2 Tbsp rose water
1 tsp unsweetened coco powder
Decoration
Optional
Preparation
In this recipe we made ktayef cookies shaped rolls and balls.
1- Thaw the kataifi shredded dough by allowing it to stand at room temperature for 2 hours before using.
2- Preheat oven to 350°F.
3- First we prepare the sugar syrup, please refer to the home made sugar syrup recipe here https://www.myexcellentdegustations.com/homemade-sugar-syrup/
4- While the syrup is cooling, mix all the filling ingredients in a bowl.
5- With the filling mixture, form small balls, and 2 to 3 inches finger shapes. Set aside.
6- Remove a small amount of kataifi and loosen by gently pulling strands with both hands working in opposite directions.
7- Make a bird nest, then brush the inside with melted butter.
8- Put the filling ball inside the nest, then close the nest to make a nice ball, as shown in the above picture.
9- Dip the shredded dough ball in the melted butter, press the ball to get out excess butter. Put in a baking sheet covered with parchment paper..
10- To make the rolls, repeat step 5, then lay the shredded dough on a working board, and make a rectangle shape with it. Brush with melted butter and put the filling finger shape in the middle of the rectangle and roll up.
11- Dip the rolls in melted butter and press them to get out the excess butter. Put in baking sheet placing seam side down.
12-Bake the shredded dough cookies or ktayef for about 40 minutes or until golden.
13- Soak the cookies in the sugar syrup, then drain.
14- Serve.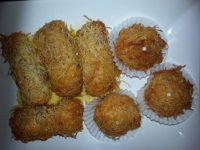 Recipe by: LDS's Mom