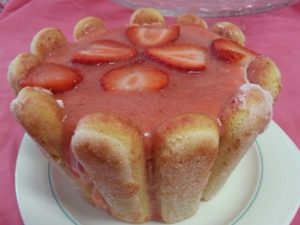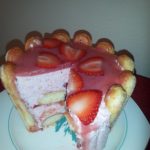 Ingredients
16 ladyfingers

2 cups strawberries cut into pieces

6 tbsp granulated sugar

1 cup heavy whipping cream

3 tbsp powdered sugar

2 tsp unflavored powdered gelatine

1 tbsp cold water

Garnish

Strawberry sauce(optional)

2 large strawberries cut into pieces
Instructions
First put in a bowl 1 cup strawberries and add in granulated sugar.

Use an immersion blender to puree the strawberries and make strawberry sauce(can also use food processor or blender).

Take about 2 ladles of the strawberry sauce and put in a saucepan over medium low heat.

Activate gelatine for 2 to 3 minutes by putting gelatine powder in 1 tablespoon water.

Once the strawberry sauce is warm, take out from heat and mix in the gelatine.

Mix well until gelatine is completely dissolved in the sauce.

Pour the gelatine mixture over the remaining strawberry sauce and mix it well.

Reserve 2 ladles of the sauce to be used later and keep the rest to be mixed with the cream Chantilly.

Use an electric mixer to beat the heavy cream and make a cream chantilly. Gradually add in the 3 tablespoons of powdered sugar and beat until soft peaks form.


Pour strawberry sauce over the cream Chantilly.

Gently fold in until everything is well combined and you obtain a nice strawberry mousse. Refrigerate.

To assemble the charlotte, take few ladyfingers and cut one end of each to make a base.

Prepare a baking dish or a storage dish to be used for the charlotte(can use 6 inches round spring form pan) Put a plastic wrap inside the dish to cover the bottom and sides. It make it easy to take the charlotte out of the dish later. The dish used in this recipe is a 6 inches circular baking dish.

Gently soak the flat side of a ladyfinger in the reserved 2 ladles of strawberry sauce.

Place soaked ladyfingers inside the dish all around. The sugared side or convex side facing the outside edge of the dish.

Put few soaked ladyfingers in the bottom of the dish, you may need to cut them into pieces.

Pour half of the strawberry mousse inside the dish.

Add in few strawberry pieces on top.


Layer with soaked ladyfingers again then top with the remaining strawberry mousse.

Make sure to smoothen the top with a spatula or a knife to make it even.


Cover with plastic wrap and refrigerate for 4 hours minimum or preferably overnight until set. Reserve the remaining strawberry sauce in the refrigerator for garnishing.

After that time, take out the charlotte from the dish by gently pull out the plastic wrap.

Put the cake on a serving dish.

Pour the remaining strawberry sauce(used for soaking the ladyfingers) over the cake. After 4 hours, the strawberry sauce may be used if it's not completely gelled, but if the cake was let to set overnight, you may need to make a new strawberry sauce with gelatine for garnishing(optional).

Top it with few strawberry pieces.