Preparation time: 15 mn
Cook time: 40 mn
Total time: 55 mn
Ingredients
1 puff pastry sheet
4 cups chopped baby spinach
8 slices smoked salmon
½ cup shreded mozzarella cheese
2 eggs
2 Ts milk
4 Ts cream liquid
1 Ts olive oil
1/2 ts salt
1/8 ts black pepper
1/4 ts ground nutmeg
1/8 ts Marjoran leaves
1/8 ts Thyme leaves
1/8 ts oregamo
2 ts finely chopped dill
Preparation
Preheat oven to 400 °F.
1- saute the spinach in the olive oil over medium heat. Add a pinch of salt and stir for about 3 mn, until just wilted. Turn off the heat and press the spinach to get rid of its water. Set aside.
2- unfold the puff pastry sheet, then lay it on 9 inch pan covered with parchment paper. Prick bottom lightly with a folk. Set aside.
3- Arrange the spinach over the pastry base.
4- Spread the salmon cut into small pieces through the dish.
5- Sprinkle with mozzarella cheese. Set aside.
6- In a bowl, mix eggs, milk and the cream liquid with all the remaining ingredients.
7- Pour the mixture over the mozzarella.
8- Bake for about 35 to 40 mn, or until golden brown.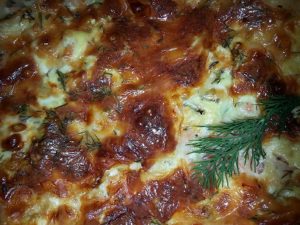 9- Let cool for about 10mn before cutting.
10- Serve.
Recipe by: LDS's Mom