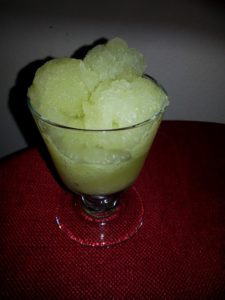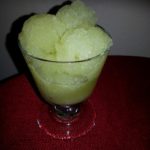 Ingredients
3 cups honeydew melon chunks frozen

Juice of 1/2 lemon

Zest of 1 lemon

1 cup simple syrup(1/2 cup granulated sugar, 1/2 cup water)
Instructions
This recipe does not require an ice cream maker, however the freezing time does increase.The total time to make this sorbet, including freezing time is 7 hours and 18 minutes minimum.
First, start with preparing the syrup. Pour water and sugar in a saucepan over medium heat.

Bring to boil, then let simmer at lower heat for about 10mn.

Turn off the heat and add the lemon juice and zest. Set aside.

Blend the honeydew melon in a blender with the syrup.

Put the honeydew mixture in a dish and refrigerate for minimum six hours.

Take out the dish from the freezer and break down the honeydew mixture.

Mix well with the spoon or a mixer.

Put back the honeydew mixture in the freezer again for minimum one hour.

Scoop into a serving cup with the ice cream scooper.

Serve.