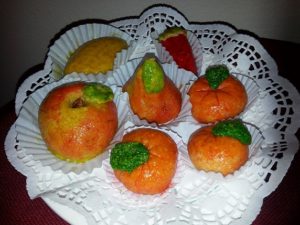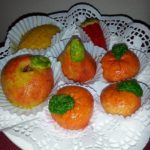 Ingredients
For the syrup

1

cup

water

1/2

cup

granulated sugar

1

tsp

orange blossom

For the almond paste

3

cups

super fine almond flour

1

cup

powdered sugar plus extra to work the almond paste

1

cup

syrup

Food coloring, red, green, yellow and orange

For the filling

6

tbsp

almond powder

2

tbsp

granulated sugar

1

tsp

coco powder

1 to 3

tbsp

orange blossom
Instructions
To avoid using too much food coloring in this recipe, I choose not to mix the food coloring with the almond paste, but I preferred to brush my almond fruits paste with the mixture of food coloring and syrup.
First prepare the syrup by putting all the ingredients in a saucepan over medium high heat. Bring to boil, then reduce the heat to medium low and let simmer for 10 minutes. Let cool.

Prepare the filling by mixing all the ingredients. For the orange blossom, sprinkle little by little until you obtain a nice combined mixture.

With the filling, form small balls, the size of hazelnuts or smaller, and set aside.

In a bowl sift together the almond flour and powdered sugar.

Pour syrup little by little over the almond sugar mixture, and knead for few minutes until the ingredients are fully combined and come together into a ball. The syrup is just used to combine all the ingredients, you may not need to use all of it.

Sprinkle powdered sugar on a working board.

Take a small portion of almond paste, roll it into a ball then flatten it out into a disc.

Put a ball of the filling in the center of the disc, and wrap the disk around the filling to make a nice ball.

Form your desired simulated fruits shapes with the stuffed almond paste. Keep a small portion of the almond paste to make leaves shape.

Use a knife to shape the top of the mandarin oranges.

Roll the lemon and strawberry almond fruits on top of a grater to get that dots shapes.

Put half pecan (optional) in the little hole (hole shaped with the pinky finger) of the apple shaped fruit as shown in the picture above.

Prepare the food coloring by putting in separate bowls few drops of each color with a tablespoon of syrup. Mix well.

Using a kitchen brush, coat each fruit with the desired food color syrup mixture. Let dry and set aside.

Make leaves shape using a knife or a small leaf cookie cutter if available. For the strawberry leaves, make a shape of a starfish.

Brush the leaves with a mixture of green food coloring and syrup.

Put leaves on the fruits that needed it. Let dry.

Serve or store in airtight container for later serve.