Print Recipe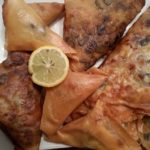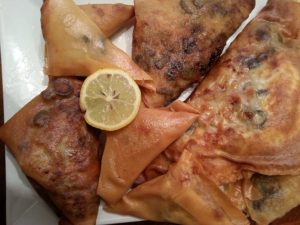 Ingredients
6 spring rolls sheets
Oil for frying
For the filling
3oz chunk light Tuna drained
1 chopped small onion
1 small potato
1/2 cup pitted black olives cut small
1 cup shredded mozzarella cheese
2Tbsp chopped cilantro
1 Tbsp olive oil
1 tsp capers
4 eggs
salt, pepper
Lemon for garnishing
Preparation
You can make the brik as big , medium or small triangle shaped. We have used the eggs for the big and medium brik only.
To make the medium brik, Put the filling in the middle of the spring roll. Fold the spring roll sheet about 2 inches from all sides, to make a medium square. then fold the two opposite sides to have that medium brick, triangle shaped.
To make the small brick, triangle shaped, cut the spring roll sheet into two pieces then put the filling in the lower side of the half spring roll. Fold the brik in a triangle shape.
To make the big brik, follow these steps:
1- First cook the peeled potato in salted water, drain and mash it with olive oil.
2- Get all the ingredients for the filling ready.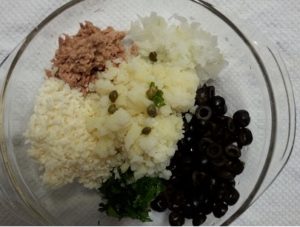 3- Put one spring roll sheet on a large plate.
4- Put about one tablespoon of potato, tuna and olives. Add in about 2 to 3 capers.
5- Crack one egg in the center of the spring roll sheet on top of the other filling ingredients. Salt the egg and pepper it.
6- Sprinkle cilantro and add about one tablespoon of mozzarella cheese on top.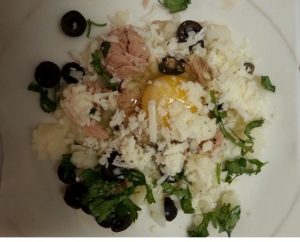 7- Fold two opposite sides to make a triangle. We have used a square
spring roll sheet, it makes it easy to shape the brick.
8- Gently put the brik in a frying pan covered with oil over medium high heat.
9- Fry both sides of the brik until golden.
10- Drain briefly on paper towel.
11- Serve with lemon.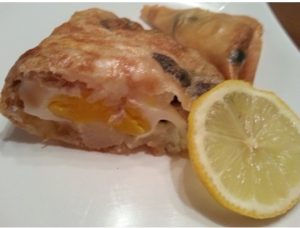 Recipe by: LDS's Mom