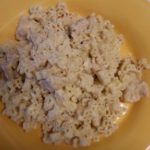 Ingredients
12 oz Texas shaped pasta

1 lb chicken breast

½ stick unsalted butter

¼ tsp black pepper

¼ tsp onion powder

¼ tsp garlic powder

½ tsp dried oregano

½ tsp dried parsley

1 cup heavy cream

1 cup grated parmesan cheese

salt to taste
Instructions
First cook the pasta according to package directions.

Cut chicken breast into bite size pieces.

Season chicken with salt and pepper. Make sure you don't put too much salt.

Sprinkle the chicken with onion powder, garlic powder, oregano and parsley.

Mix well until the chicken is well coated in all sides. Set aside.

In a saucepan over medium high heat, put butter to melt.

Toss in the chicken pieces and stir occasionally for 5 to 10 minutes or until the chicken is cooked.

Pour in the heavy cream.

After the cream start to bubble, reduce the heat to low and let simmer for about 10 minutes.

Add the grated parmesan cheese. Stir until melted and the sauce has thickened.

Taste for salt and pepper and adjust the seasoning if needed.

Toss in the pasta. Mix well to coat the pasta with the sauce then turn off the heat.

Serve.