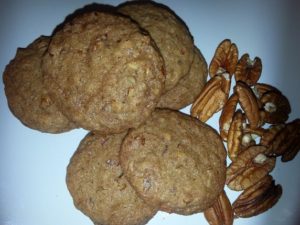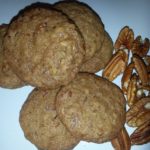 Ingredients
1 cup coarsely chopped pecans

1 stick unsalted butter at room temperature

3/4 cup brown sugar

1/4 tsp ground cinnamon

1 cup all purpose flour

1/4 tsp salt
Instructions
I like to eat these cookies the same day I bake them. They taste much better when they are freshly baked(not too hard). Here is my recipe:
Preheat oven to 350°F.

In a bowl mix flour with salt and set aside.

In another bowl, cream butter and sugar using an electric mixer or a spoon.

Beat in cinnamon and gradually pour the flour mixture. Mix until combined.

Fold in pecans. The dough obtained should be really soft.

Use an ice cream scoop to shape the dough or simply shape dough with hands into walnut sized balls.

Put on a baking sheet covered with parchment paper; place them 2 inches apart.

Lightly flatten each ball with your hands. If the dough is too sticky put your hands in cold water from time to time.

Bake for 15 to 18 minutes or until cookies are golden brown.

Let cool then serve.