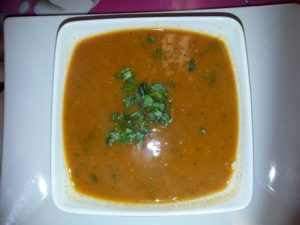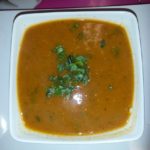 Cook Time
1
hour
20
minutes
Total Time
1
hour
35
minutes
Ingredients
1

lb

lamb meat cut into small pieces

1 medium onion

2 green onions

2 cloves garlic

3 Tbsp extra virgin olive oil

1 big zucchini

3 medium carrots

3 medium tomatoes

3 celery stalks

¼ cup lentils

1 cup chickpeas soaked overnight

1

tbsp

tomato paste

1

tsp

paprika

1/4

tsp

black pepper

1/4

tsp

ginger powder

1/8

tsp

cumin

1/8

tsp

cinnamon powder

1/4

tsp

coriander powder

1

tbsp

flour

1

bunch cilantro plus extra for garnishing(chopped)

Salt

Water

Lemon wedges for squeezing(optional)
Instructions
There are varieties of Harira or Hrira, this recipe is my version.
Soak the lentils in a cup of warm water.

Boil the tomatoes in a saucepan for 2 to 3 minutes, then peel them off. Set aside.

Put olive oil in a saucepan over medium high heat. Add in the meat, the bunch of cilantro and all the vegetables.

Stir for a minute or two then add tomato paste and all the spices.

Stir well until the meat gets all the flavors from the spices. Take out the meat and set aside.

Cover the vegetables with warm water, add in the drained lentils. Bring to boil then reduce the heat to medium low. Let it cook for about 30 minutes.

Put the meat in another saucepan over medium high heat and cover it with warm water. Add a pinch of salt.

Toss the chickpeas in the meat saucepan. Bring to boil and let cook over medium low heat for 30 minutes.

Once the vegetable are cooked, take out the celery stalks and the bunch of cilantro, dispose them.

Pour the rest of vegetables in a blender and blend them or you can use an immersion blender.

Pour back the blended vegetables in the same saucepan, and add in the meat chickpeas mixture.

Let the meat and chickpeas continue cooking with the blended vegetables at medium low heat for 30 more minutes or until the meat is completely cooked.

Put the tablespoon of flour in half cup of warm water. Mix well until no lumps.

Once everything is cooked, reduce the heat to low and pour the flour mixture in the saucepan.

Stir constantly until the soup thickened while it is gently simmering.

Keep stirring for about 15 minutes until you obtain a nice smooth and thick soup.

Turn off the heat and sprinkle with chopped cilantro.

Serve warm with lemon wedges(optional).