Print Recipe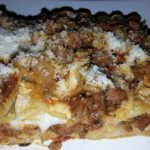 Total Time
1
hour
45
minutes
Ingredients
1 lb Lasagna pasta
2 lbs ground beef
1 chopped medium onion
2 chopped cloves garlic
2 chopped fresh tomatoes
1 Ts tomato paste
2 ts paprika
1 cup chopped cilantro
2 Ts chopped basil
1 ts oregano
2 bay leaves
2 Ts olive oil
1 ts salt
¼ ts black pepper
1 cup water
½ cup Parmesean cheese
½ cup monterey jack cheese
½ cup mozarella cheese
Preparation
1- To make the meat sauce, put olive oil in a large sauce pan over medium high heat.
2- Sauté the onion and garlic in the olive oil for 4 or 5 minutes until translucent.
3- Season with salt and pepper.
4- Add in bay leaves, tomatoes, paprika, tomato paste,cilantro, oregano, basil and the ground beef. Stir for 2 to 3 minutes, then pour in the cup of water.
4- Bring to boil.
5- Reduce the heat to medium low and let simmer for 15 to 20 mn.
6- In meanwhile preheat oven to 350°F.
7 – Cook the lasagna pasta as directed in the package until el dente.
8- Put the cooked lasagna in cold water.
9- Laddle 1/3 of the sauce meat In a rectangular baking dish of about 9″ x 12″ x 2″. Spread the meat sauce to coat the bottom of the dish.
10- Add lasagna noodles on top of the meat sauce. The noodles should overlap on top of each other.
11- Cover the pasta with a ¼ cup of each cheese, the mozzarella, the montery and the parmesan cheese.
12 – Pour the remaining meat sauce on top of the cheeses.
13 -Repeat the operation by putting the lasagna noodles on top.
14 -The final layer should be the lasagna noodles covered with meat sauce. The meat sauce will be topped evenly with the remaining mozzarella, and monterey jack cheese, sparkled with parmesan cheese.
15 – Cover the lasagna with aluminum foil and bake for approximately 1 hour.
16- For the last 20 minutes, uncover the lasagna and let it bake until golden.


17- Serve warm.
Recipe by: LDS's Mom