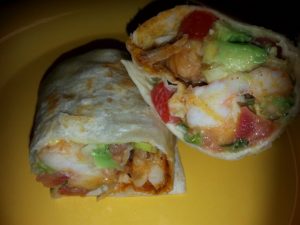 Preparation time: 10 mn
Cook time: 5 mn
Total time: 15 mn
Serves: 2
Ingredients
8 to 10 count shrimps
2 large flour tortillas
2 ts olive oil
2 Ts classic ranch dressing
2 Ts shredded mozzarella cheese
For the salsa
1 medium tomatoe
1 medium avocado
3 green onions
½ small lime
2 Ts chopped cilantro
Salt and pepper to taste
1 ts olive oil
For the Garlic Shrimp
8 to 10 shrimps
4 cloves garlic
1 Ts olive oil
¼ ts chili powder
½ ts paprika
Salt and pepper to taste
Preparation
1- First we mix all the salsa ingredients and set aside. You can add serrano chili or jalapeño chili if desired.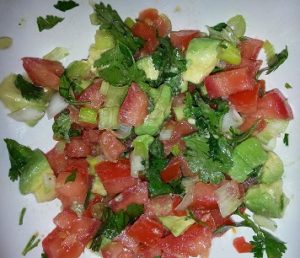 2- Second , prepare the garlic shrimps. Sauté the garlic in 1 tablespoon olive oil over medium heat for about a minute.
3- Add in the shrimps and the remaining ingredients.
4- If the mixture gets too dry, add 1 to 2 tablespoons water.
5- Cook for about 5mn stirring constantly.
6- Pour the garlic shrimps in a bowl and set aside.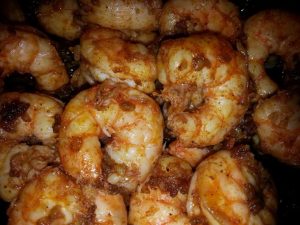 Make the Burritos
1- On medium heat put about one teaspoon olive oil in a large skillet . Roast the tortilla on both sides. and set aside.
2- Lay the roasted tortilla in a large plate.
3- Put about 2 to 3 tablespoons of salsa.


7- Fold two sides (toward the center) and one end of the tortilla over filling and roll up to form a nice burrito.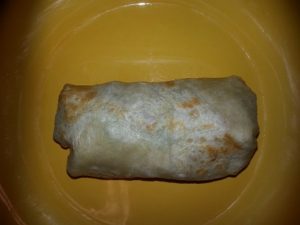 8- Repeat the operation to the other tortilla.
9- Serve.
Recipe by: LSD's Mom