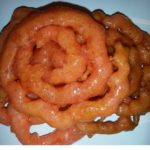 Prep Time
1
hour
30
minutes
Total Time
1
hour
45
minutes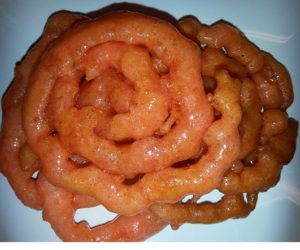 Ingredients
1 cup all purpose flour
1 cup thin semolina
1 Tbsp yeast
2 Tbsp oil
1 pinch salt
1/8 tsp or less red food coloring
2 cups warm water
oil for frying
For the sugar syrup
Please refer to my home made sugar syrup recipe here https://www.myexcellentdegustations.com/homemade-sugar-syrup/
Preparation
Zlabia or Jalebi is a sweet popular in countries of north and east Africa. It is also popular in south Asia, west Asia and the middle east.
Zlabia is usually prepared during the holy month of Ramadan. Recipes varies from one country to another, here is my recipe.
1- First of all, we need to prepare the sugar syrup, please refer to my home made recipe in the link cited above. You may need to double the ingredients of the sugar syrup for this recipe.
2- Let the syrup cool.
3- In a bowl, mix all the ingredients well except the frying oil.
4- Cover the bowl with plastic wrap and let rise.
5- After an hour, beat the batter . Cover and let rise again for about 30 minutes. You can let the zlabia mixture or batter rise overnight.
6- Use a salad dressing bottle or funnel for shaping the Zlabia.
7- Fill up the bottle with batter. If you are using a funnel , make sure you block the funnel tip with your finger until ready to fry.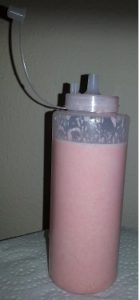 8- Heat about 2 inches of oil in a large saucepan over medium high heat.
9- Pour the zlabia batter by pressing on the bottle, and making spiral shapes. Finish shaping the zlabia by going to the spiral center.
10- Fry both sides until golden.
11- Dip the zlabia directly in warm sugar syrup.
9- Serve.
Recipe by: LDS's Mom