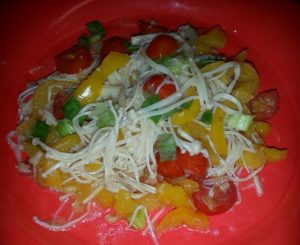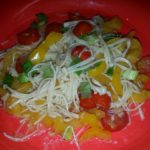 Ingredients
5 oz enoki mushrooms

1 tbsp olive oil

1 small sliced yellow bell pepper

5 cherry tomatoes cut in half

1 green onion finely chopped plus extra for garnishing

2 cloves minced garlic

1 tsp sesame oil

1 tsp soy sauce

1/2 tsp granulated sugar

¼ tsp salt
Instructions
Cut the enoki mushroom roots and separate the mushrooms.

Rinse enoki mushrooms with cold water then drain them.

Steam the mushrooms for about 7 seconds. Set aside.

Put the oils in a saucepan over medium high heat.

Sauté the yellow pepper along with onion and garlic for 2 to 3 minutes.

Season with salt and cook for 2 more minutes, stirring frequently. You may need to stir in some water (about 1/3 cup) if you like the vegetables to be fully cooked.

Add in cherry tomatoes and cook for about a minute.

Add soy sauce and sugar.

Toss in the Enoki mushrooms, mix well and take out of the heat.

Serve immediately.