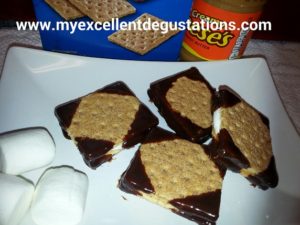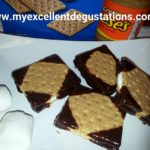 Ingredients
6 graham crackers

3 big marshmallows

6 tbsp creamy peanut butter

3 tbsp chocolate chips

1 tbsp heavy cream

1 tbsp unsalted butter at room temperature
Instructions
No need of Campfire to make these s'mores. We only need to use a microwave, so here is my recipe:
Cut each marshmallow in half, using kitchen scissors. Set aside.

Break each graham cracker rectangle in half (2 squares) and set aside.

In a heat proof bowl, melt the chocolate with heavy cream by putting the bowl over a saucepan with simmering water, stirring occasionally. Once the chocolate has melted, add in the butter and take out the bowl from the heat. Keep mixing until obtain a nice shiny mixture. Set aside.

Put on each graham cracker(6 squares), 1 halved marshmallow. Set aside.

Spread peanut butter on the 6 remaining halved graham crackers(squares).

Put the halved graham crackers topped with marshmallows in a plate and microwave for about 13 seconds, just enough for marshmallows to puff up.

Assemble the marshmallow topped crackers with the peanut butter topped crackers. Gently press to adhere and obtain graham cracker sandwiches.

Dip the cracker sandwiches in the melted chocolate. You can dip all the corners in the chocolate or just one side.

Refrigerate for about 5 minutes until the chocolate cool and harden.

Serve.