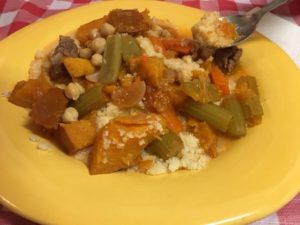 Recipe coming soon!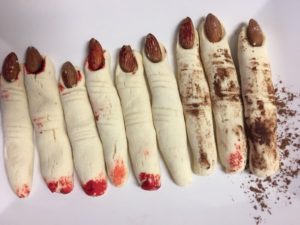 These witch fingers are easy to make and can be baked for only 10 minutes but it's important to let the dough chill for 30 minutes.
With red stains, some dirt (simulated), these creepy fingers are right on your serving plate. They may look ghoulish but really soft and tasty……Aghhhh let make some!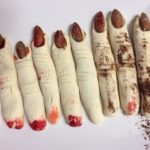 Ingredients
1 stick unsalted butter at room temperature, cut small

1 small egg

½ cup powdered sugar

½ cup cornstarch

¼ tsp baking powdered

1/4 tsp vanilla extract

¼ tsp salt

1 1/3 cups all purpose flour

¼ cup whole almond with skins on

Red food coloring

1 tbsp coco powder
Instructions
In a bowl, put butter, powdered sugar and the egg.

Whisk until well combined.

Add in salt, vanilla and cornstarch, mix well.

Sift in flour and baking powder. Mix until obtain a nice soft dough (don't over mix).

Cover dough with plastic wrap and refrigerate for 30 minutes.

Take a small amount of dough and roll it out into a finger shape.

Make knuckles by pressing in 2 places on the cookie finger with your index finger or thumb.

Press almond in each finger cookie to make believe that it is a nail.

Create wrinkles with a back of knife by making little lines for each knuckle around finger nails and halfway down the finger. Follow the same above steps for the rest of the dough.

Place finger cookies in a non stick baking sheet and bake in a 350°F preheated oven for 10 to 12 minutes.

Let cool for 5 minutes.

Make cookie fingers creepier by dusting some coco powder on some cookies.

for the other cookies, stain the other end of cookie fingers with red food coloring by using your finger. Do the same around cookie fingernails.

Enjoy.