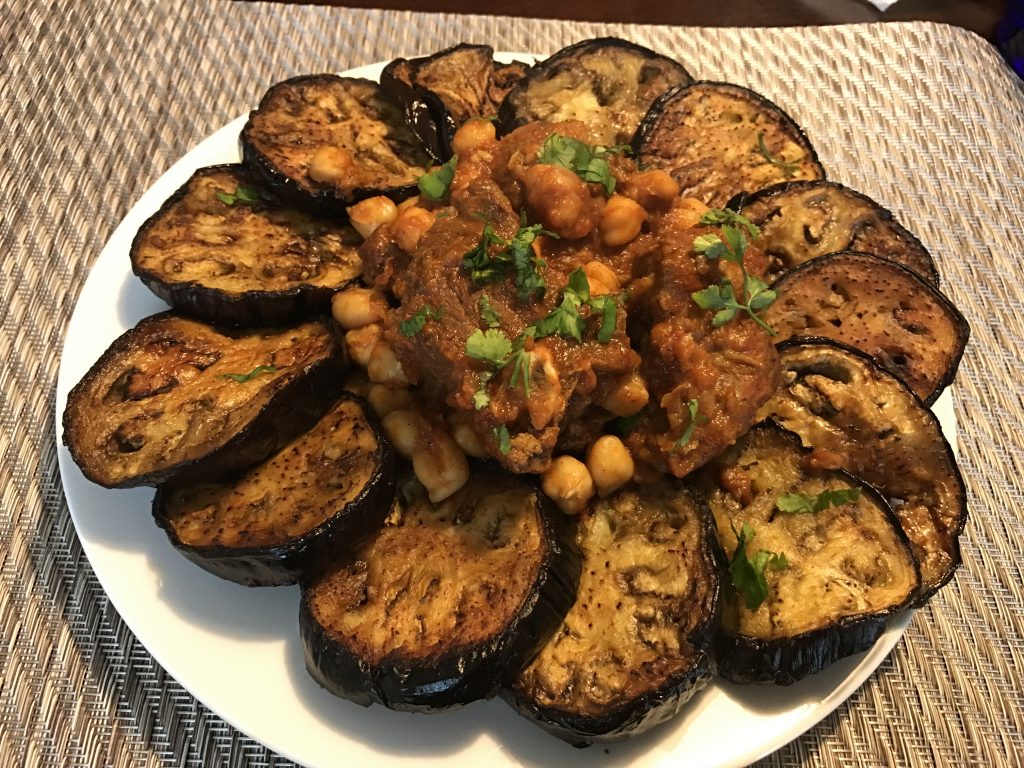 The seasoning of the sauce differ from one region to another, some use cinnamon or caraway or cumin or turmeric, ginger or a combination of these spices and more. I love the North African spice mix ras el hanout and I use my homemade recipe, please check it out here: https://www.myexcellentdegustations.com/homemade-spice-mix-ras-el-hanout/
For health benefits, it does not hurt to add ginger and turmeric to the sauce even though these ingredients are in the Ras el Hanout already (I did not add them in the recipe ingredients because it's just my choice). I love this dish with a French baguette!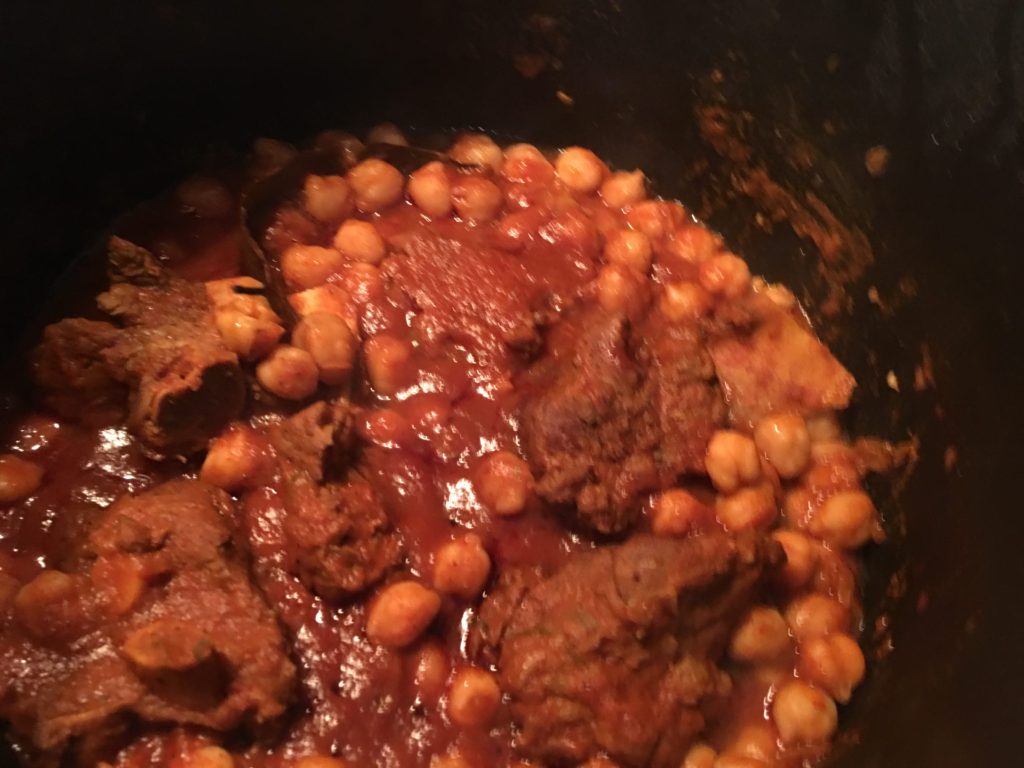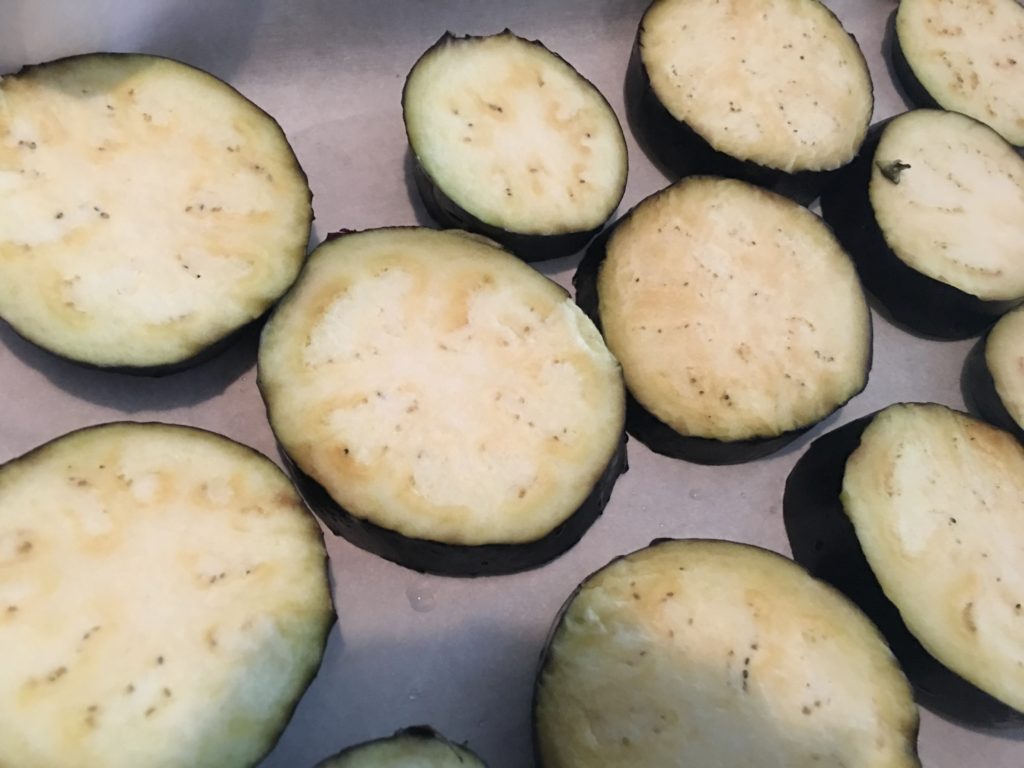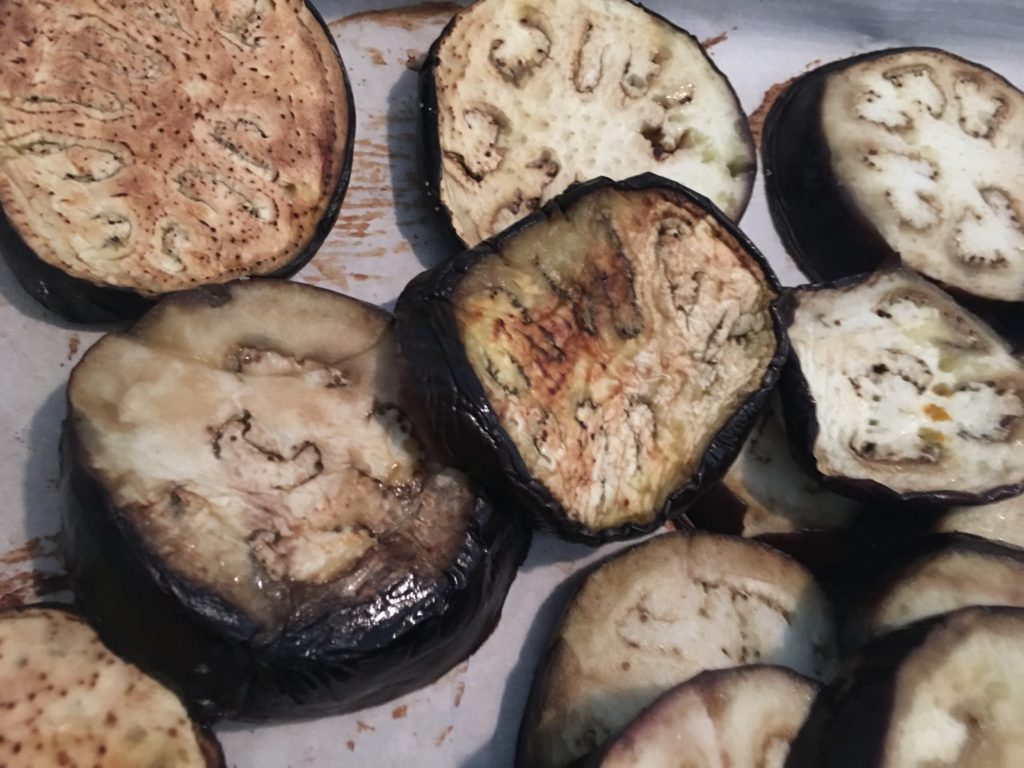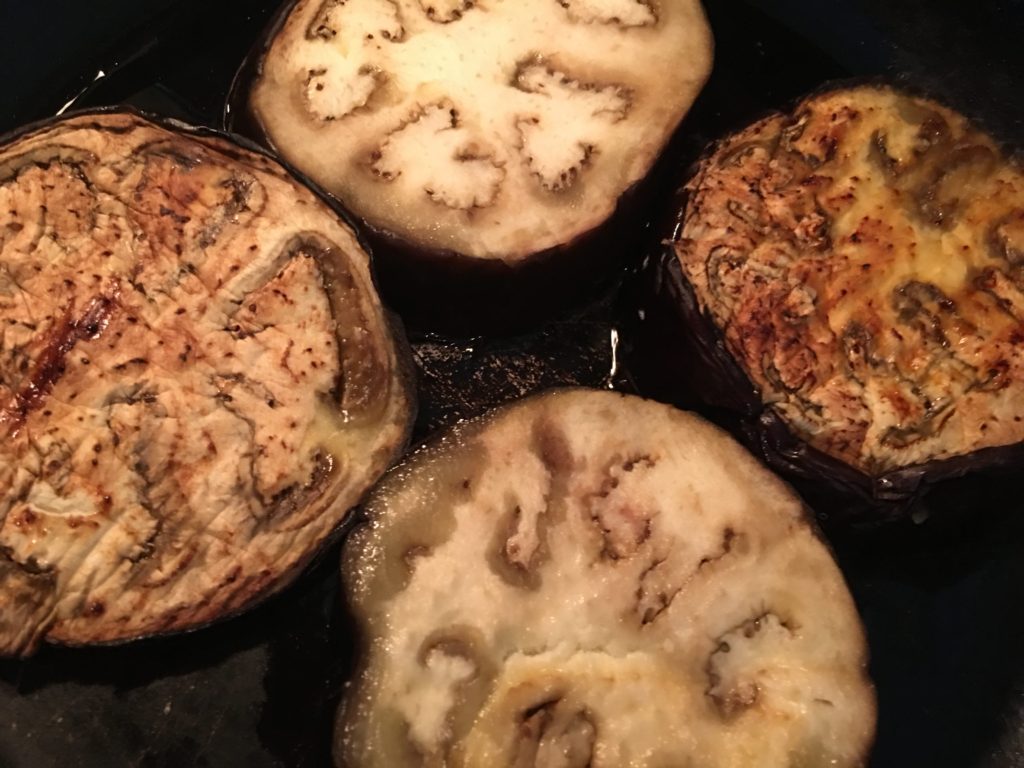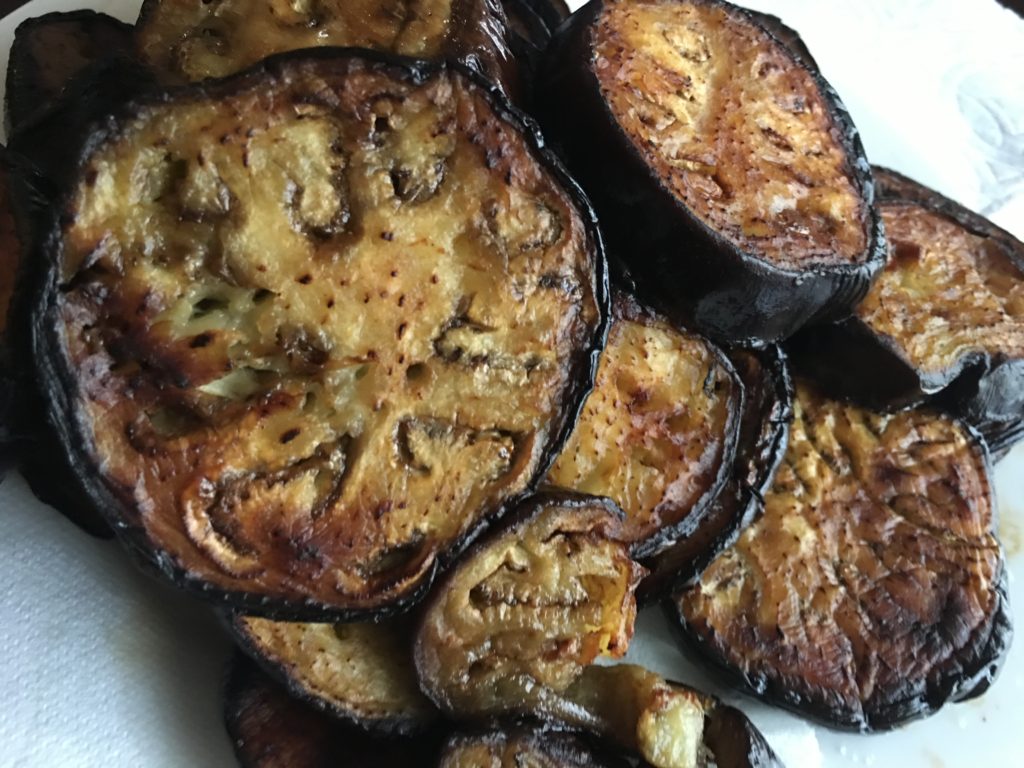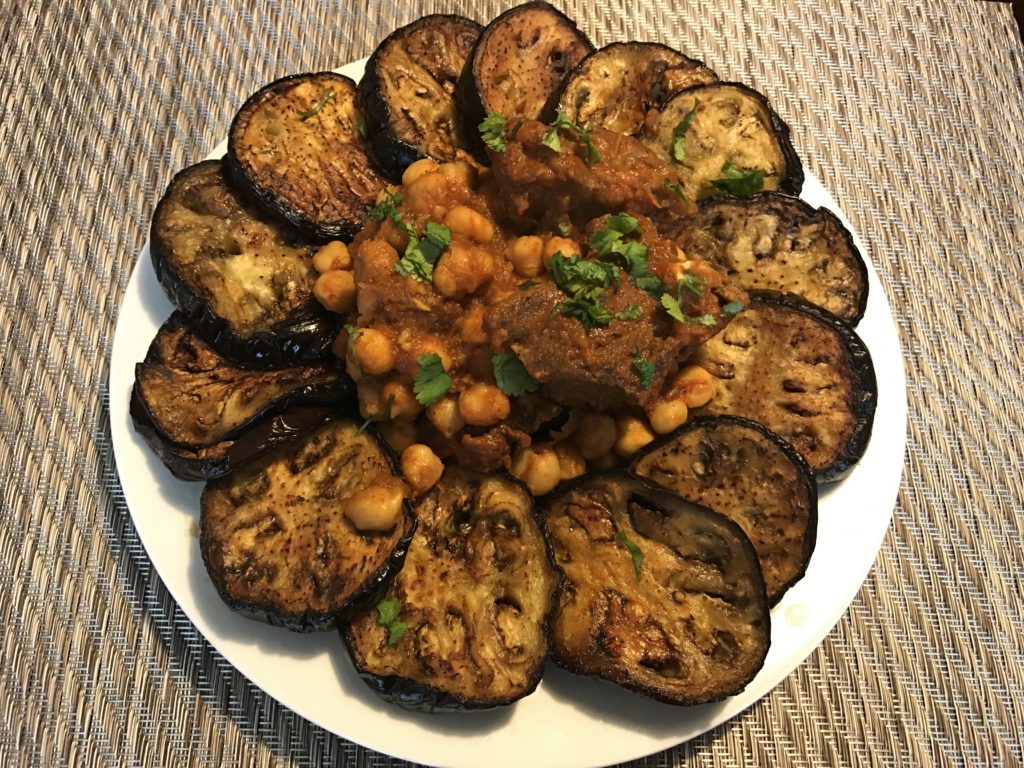 Cook Time
1
hour
10
minutes
Total Time
1
hour
25
minutes
Ingredients
1 lb pieces of meat

3 medium eggplants

1 small onion, chopped

2 green onions, chopped

2 cloves garlic, minced

1 tomato, grated

2 cups chickpeas, soaked overnight and rinsed

1 tsp ras el hanout

2 tbsp extra virgin olive oil

1 tbsp unsalted butter at room temperature

1 tbsp paprika

1 tbsp tomato paste

salt, pepper to taste

Vegetable or canola oil for frying

Chopped parsley or cilantro for garnish (optional)

Hot Water
Instructions
Put the butter and olive oil in a saucepan over medium heat.

Add the minced garlic and onions then let cook for a minute or two.

Add the meat, paprika, the grated tomato, tomato paste, ras el hanout, salt and pepper (to taste).

Let cook for about 5 minutes, then add in the chickpeas.

Pour in water, that should cover the meat and chickpeas.

Let cook for about 40 to 60 minutes or until the meat is cooked (at medium heat) and the sauce is reduced.

In meanwhile, slice the eggplants into about ½ inch slices then season with salt.

Place the eggplant slices in a baking dish, single layered and bake in a 400 °F preheated oven for 45 to 1 hour (cover them with aluminum paper).

Put oil in a frying pan over medium high heat.

Fry the baked eggplant slices for few minutes in each side until they get that golden color (knowing that the eggplants are already baked so no need to fry them for too long).

Take out the meat from the sauce and gently add the fried eggplants to the sauce.

Let simmer for 2 to 3 minutes just to get all the flavors of the sauce and adjust the seasoning for salt and pepper to your tasting.

Serve the dish by placing the eggplants slices around the plate. Add the meat, chickpeas and sauce in the middle or serve it as you like it. Garnish with cilantro or parsley if you prefer.
Recipe Notes
–  You can add sliced peeled potatoes to be cooked in the sauce or you can fry the sliced potatoes first then add them to the sauce if you like.
– You don't have to add the eggplants slices to the sauce, you can just serve them in a plate and add the meat, chickpeas sauce on top.
– You can add 1 or 2 beaten eggs with a little bit of the sauce and chopped parsley and pour it over the sauce at the end of cooking . Let simmer for few minutes.
– You can add 1 tbsp of white vinegar to the sauce after turning off the heat .