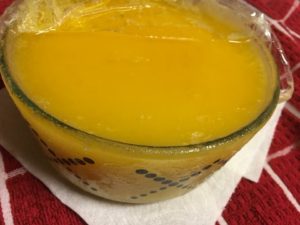 I have used 4 pounds unsalted butter (8 cups) and obtained 5 cups of Ghee. Ghee is so easy to make therefore  I will never buy it again!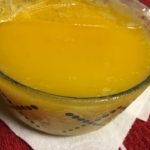 Ingredients
4 lbs (16 sticks) unsalted butter

2 to 3 tbsp water
Instructions
Place butter in a large saucepan over medium high heat.

Let the butter melt, stirring it occasionally.

Once the melted butter is boiling, reduce the heat to medium low and let simmer. You will notice a white foam forming.

Keep stirring from time to time so that the butter will cook evenly.

Once the color of the melted butter starts to change from yellow to golden brown and you notice a brown milk solid condensate at the bottom of the pan, at this step the ghee is ready.

Sprinkle the water to obtain a ghee with a grainy texture. Let boil for about 2 minutes.

Strain the ghee immediately using a mesh strainer.

Let cool and store in airtight container.
Recipe Notes
 Notice that the ghee will solidify in a couple of hours.